Animal Feed Pellets Production Line
Animal Feed Pellets Production Line For Sale
Animal feed pellets production line is a complete set of pellets equipment specially used for animal feed production. When you making poultry feed pellets, it is inevitable to use some particle machine auxiliary equipment. The use of these auxiliaries improves the efficiency of pelletizing production. At the same time, auxiliary equipment and granulator together constitute the animal feed pellets production line, we also called poultry feed pellet production line.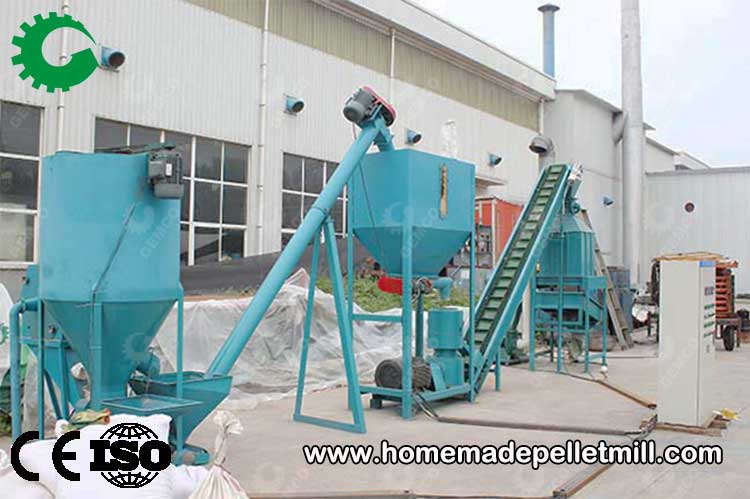 GEMCO manufacturing a large number of granulator auxiliary equipment and animal feed pellet mill with different output to meet customer's requirements. Generally, a complete set of animal feed pellets production line includes drying equipment, crushing equipment, mixing equipment, feed pellet machine, cooling equipment, loading equipment and so on. Users can choose one or more feed machines to make their own granulating work according to their own needs.
Send inquiry to us now!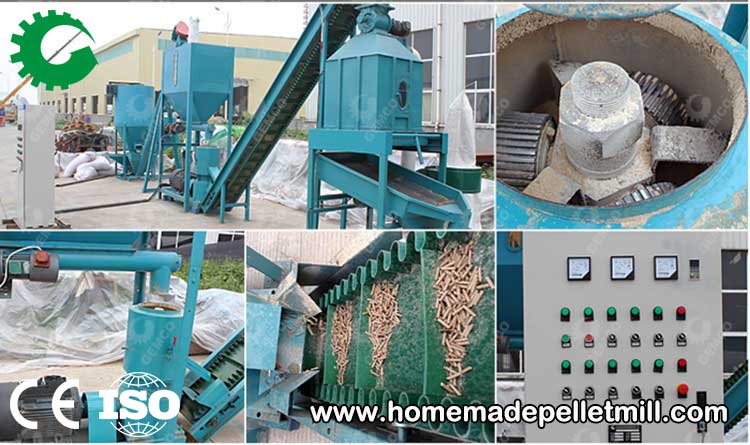 How to Choose Suitable Feed Machinery for Your Poultry Feed Pellet Production Line
The equipment combination of poultry feed pellet production line can be selected according to your needs, so how can you choose the suitable feed machinery for your animal feed pellets production line? Let's give some special examples.
Spiral feeder + Feed pellet machine
The combination of the spiral feeder and the feed pellet machine is one of the simplest combinations of the poultry feed pellet production line. Spiral feeder can replace manual feeding, can improve work efficiency, to avoid the problem of uneven artificial feeding. If you just need to simplify the production of animal feed at home, you can choose this combination.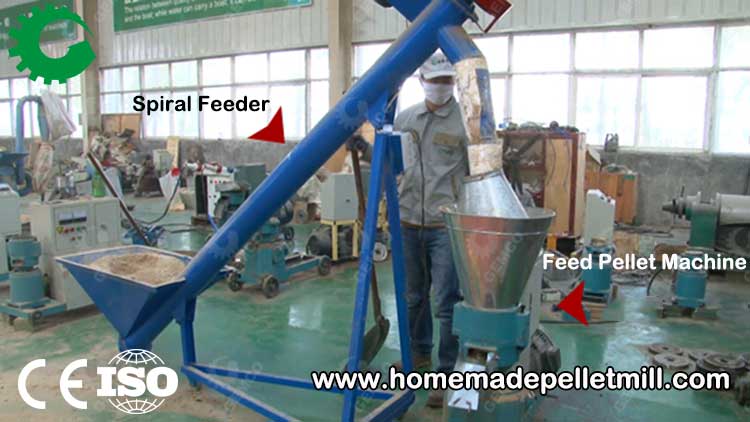 Crushing equipment + Spiral feeder + Feed pellet machine
Crushing equipment is added to this combination. This combination of poultry feed pellet production line is more suitable for users who need to smash raw materials. Animal feed pellets are finely processed materials. Different animal need match different size feed pellets. Making Cattle feed, pig feed and sheep feed fit 6-8mm raw materials, 3-5mm raw materials suitable for chicken, rabbit, birds, fish and animal cubs feed making. The size of the feed pellets depends on the size of the pellet maker die hole. So, it's better to crush the raw materials into suitable size before getting into the feed pellet maker. If your raw material size has been processed, the crusher is not necessary. For crushing equipment, wood crusher and hammer mill are both well. Wood crusher better for hard materials crushing, animal feed pellets making more suitable to use the hammer mill.
Send inquiry to us now!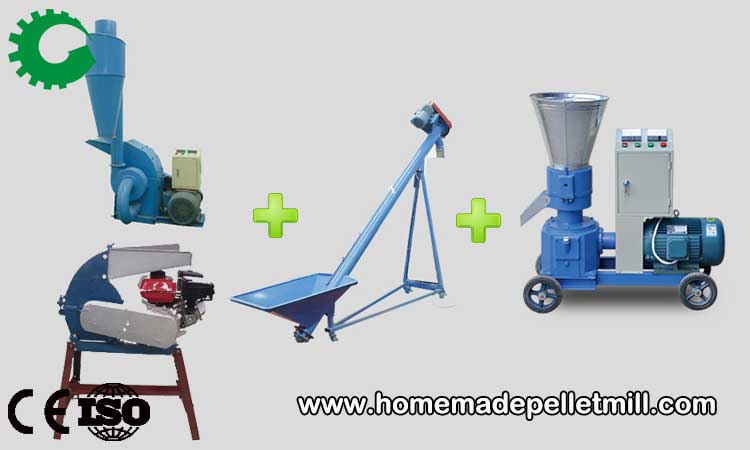 Crusher + Mixer + Spiral feeder + Animal feed pellet maker
This combination of animal feed pellets production line is suitable for the granulation demand of a variety of raw materials. In the process of animal husbandry, it is necessary to add various nutrients to the pellet feed. When the poultry are sick, they often administer the drug component in the feed. The mixer can mix all kinds of raw materials, and the nutrients are uniform. If the user's raw material is relatively simple, it is not necessary to use this device. This feed pellets production line more suitable for chicken feed making and pig feed making.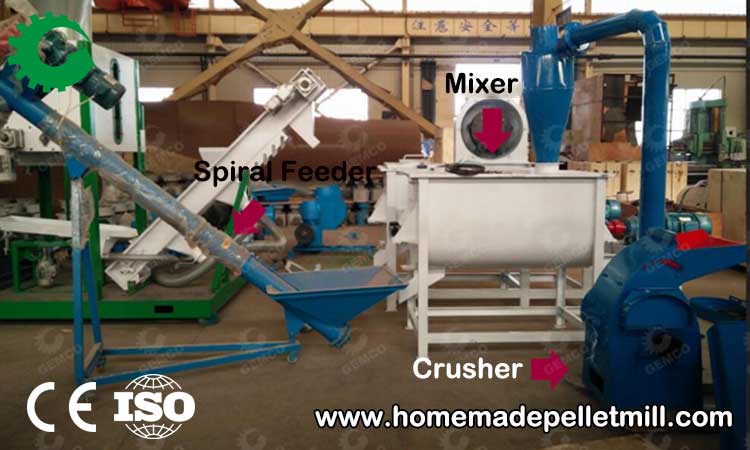 Hammer mill + Spiral feeder + Feed pellet mill + Cooling equipment
After the process of crushing, mixing, granulation, the feed pellets finally reaches the cooling link. In the granulation process, due to the machine heat, the finished product particles temperature can reach 70-85 degrees. So the cooling machine needs to cooling feed pellets to meet the storage requirements of the conditions. The cooling equipment is very necessary under the situation of pellets need to be packaged immediately. If you don't have enough space to dry the finished particles, it's better to have a cooling machine.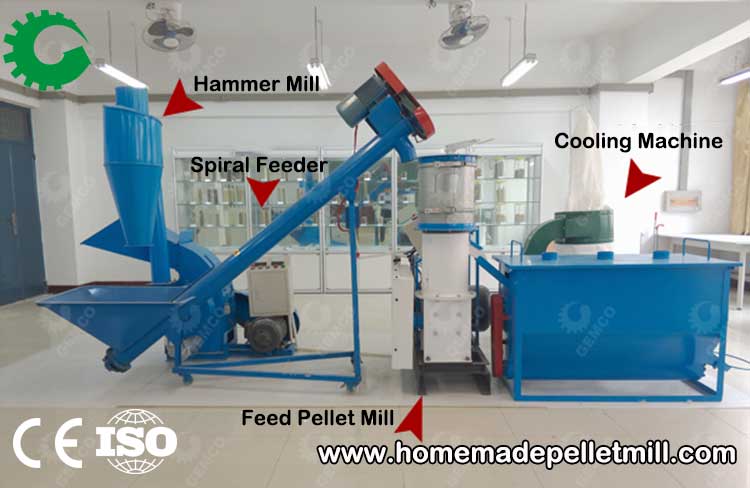 Crushing mixing integrated machine + Spiral feeder + Material silo + Feed pellet mill + Material conveyer + Cooling equipment + Electric control cabinet + Packing machine
This combination is a complete animal feed pellets production line, it is suitable for the integrated production of feed pellets. From raw materials to packed pellet feed products, whether it is stored or sold are very convenient and fast. This unit more suitable for large scale animal feed pellets production, small farm and feed processing plant.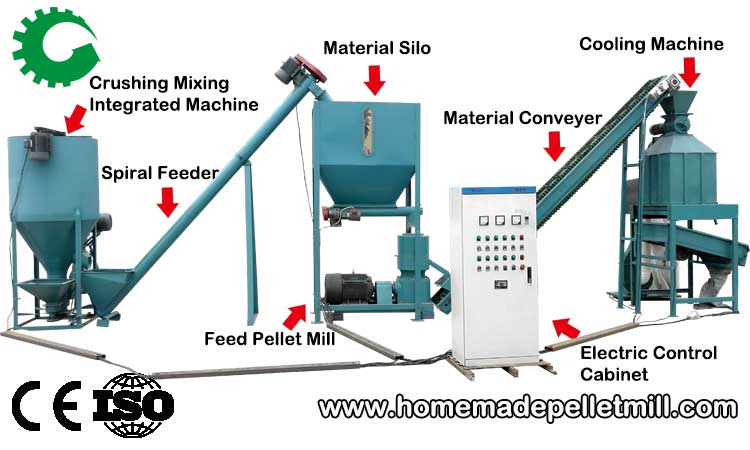 If you have any questions about Animal Feed Pellets Production Line, don't be shy to leave us a message. Our experts will answer them for you.
Product Brochures,Instant
FREE

Download

We Respect Your Email Privacy, We Hate Spam As Much As You Do!