diesel feed pellet mill
Diesel feed pellet mill is
flat-die designed
. It is more favored by pellets makers in the areas where electric is expensive or not available. The feed pellets made by our diesel engine feed pellet press have smooth surface and proper density, and also fit the feedlot well. With this diesel feed pellet mill, you can make your own feed pellets with your special ingredients.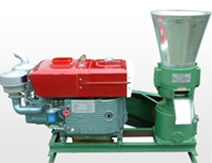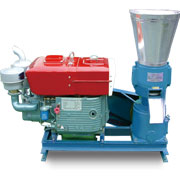 Technical Parameter of Diesel Feed Pellet Mill
| Type | Power (Hp) | Output (kg/h) | Weight (kg) | Package size (mm) |
| --- | --- | --- | --- | --- |
| ZLSP-120A | 8 | 60-100 | 120/140 | 900*500*730 |
| ZLSP-150A | 8 | 90-120 | 180/220 | 1000*500*750 |
| ZLSP-200A | 15 | 200-300 | 210/240 | 1460*750*900 |
| ZLSP-230A | 22 | 300-400 | 280/310 | 1560*850*1000 |
| ZLSP-260A | 30 | 400-600 | 330/360 | 1200*500*1070 |
| ZLSP-300A | 55 | 600-800 | 410/450 | 1220*600*1000 |
Pelletizing of Diesel Feed Pellet Mill
The production of healthy and nutritious feed pellets requires careful management of both raw materials and the producing process. Ingredients used in livestock feed usually include cereals, cereal by-products, proteins, o-products from human food manufacture, minerals, vitamins and feed additives. As cereals have a wider and wider application in making livestock feed, they need to be shattered into small particles before pelletizing.

Then make these powders of the raw material contain appropriate moisture, usually less than 15%. Put these powders into the feeder of the diesel engine pellet mill, and they will fall into the area between the flat die and the rollers. Then turn the diesel feed pellet press on, and the rollers will compress the powders into the small holes of the flat die to form feed pellets. Once the feed pellets emerge on the other side of the flat die, a series of knives will cut them into the same predetermined length immediately. Thus the good feed pellets are made.
Tips of Operating Diesel Pellet Mill
Read the instruction manual of diesel engine feed pellet mill and follow its guidance when operating.
Check the easy-wear components regularly to ensure normal and stable performance.
Avoid overloading production to guarantee a long service life of the feed pellet making machine.
Advantages of Diesel Feed Pellet Mill
This feed pellet press is driven by diesel engine, which makes pelletizing possible even there is short supply of electric.
The diesel engine feed pellet press has the clutch to control the pelletizing speed.
t is characterized by small size, compact structure, low power consumption, low noise, high output rate and long service life.
The diesel engine feed pellets maker is widely used in small aquaculture, grain feed factory, farm, poultry farm, and the individual farmer.
Feed Pellets
Feed pellets are more and more popular nowadays. Feed pellets are produced for a number of animals including poultry, pig, cattle, ruminants, and pets, etc. Feed pellets enjoy superiority like: easy digestion, high absorption rate, good palatability, and high density. Besides, they can prevent animals from being particular about their feed, and they are also specially made according to nutritious recipe. Consequently feed pellet mills have an increasing demand.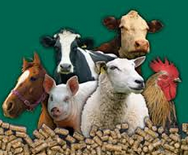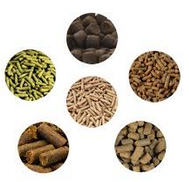 As a leading and professional Chinese manufacturer and supplier of pellet mills, our diesel feed pellets making machines have won CE and ISO9000 certifications and been exported to many countries around the world. They are more and more popular both domestically and abroad.
Product Brochures,Instant
FREE

Download

We Respect Your Email Privacy, We Hate Spam As Much As You Do!